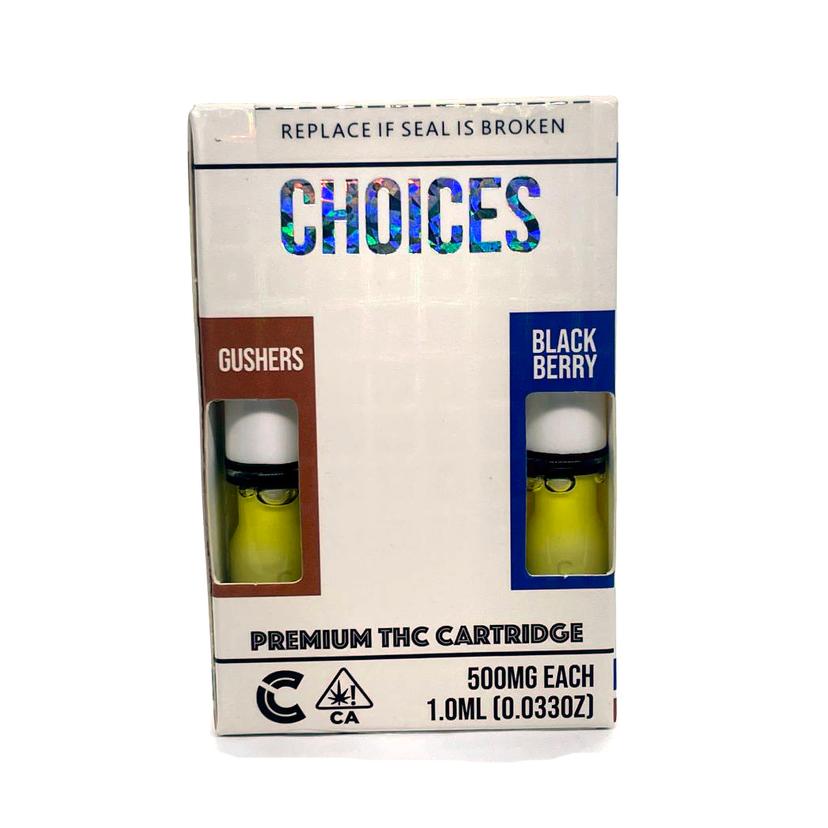 Indica
Choices | Gushers & Black Berry
Quality

Premium

Inside

2 carts

Weight

500mg each

Strains

Hybrid & Indica

Thread

510

THC

93%
Indulge in the dual delight of Choices Gushers & Black Berry, a carefully curated pack of two 500mg THC cartridges that offer the finest flavors and effects for those who love to buy weed online in the US. These exquisite strains come together in one package to provide a dynamic and diverse cannabis experience that caters to various moods and occasions.

• Flavor Profile:
- Gushers: Bursting with a sweet and fruity flavor, Gushers tantalizes your taste buds with hints of tropical fruit and citrus.
- Black Berry: With rich notes of dark berries and a subtle earthy finish, Black Berry provides a deeply satisfying and complex flavor profile.

• Effects: Both cartridges create a unique and pleasurable high that can be enjoyed individually or together:
- Gushers: Ideal for a vibrant and uplifting experience that energizes and inspires.
- Black Berry: Perfect for relaxation and contemplation, offering a soothing and calming effect.

• Quality and Quantity: Choices Gushers & Black Berry pack showcases the best in cannabis crafting, with 500mg of quality THC in each cartridge. Their premium construction and meticulous blending offer a consistent and luxurious vaping experience for those who buy weed online.

• Where to Buy: Discover this dual sensation online at 1-8oz.com. With our exact product photos and dedication to excellence, you'll find exactly what you're looking for when you buy weed online in the US.

• Usage and Pairing: These two 500mg THC cartridges provide flexibility and enjoyment in various settings. Mix and match according to your preferences or the ambiance of the moment. Their complementary flavors and effects make them a must-have for any cannabis enthusiast.

Tags: buy weed online, Choices Gushers & Black Berry, 500mg THC cartridges, two strains, tropical fruit flavor, soothing relaxation, energizing uplift, consistent quality, versatile vaping experience

Embrace the versatility of Choices Gushers & Black Berry pack. Order today at 1-8oz.com, your go-to source to buy weed online in the US. With an unwavering commitment to quality, selection, and customer satisfaction, we provide an unparalleled shopping experience for all your cannabis needs.
You may also like
Muha Meds | Watermelon

Introducing Muha Meds Watermelon, a 1g all-in-one cart that redefines convenience and excellence for ...